Sand animation programs for special events: a breathtakingly exciting live visual performance.
We have developed a unique sand animation program that has no rival anywhere in the world. This multi-faceted and creative show is guaranteed to fascinate the audience, and make the event you host immensely memorable. You can follow the pouring of sand on a projector screen. The experience is enriched by music, filmed elements, and visual effects.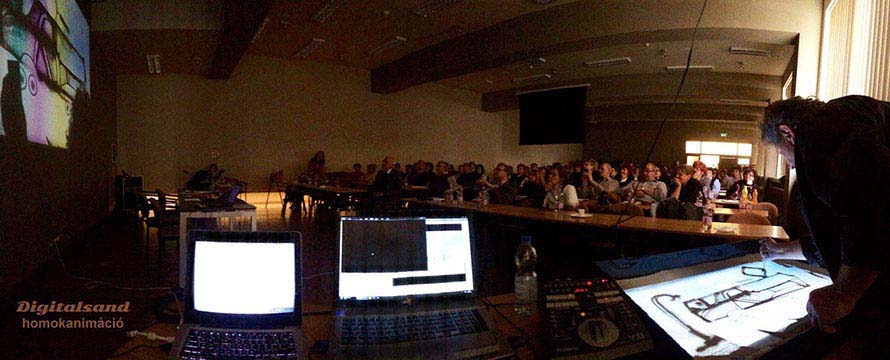 Customized sand animation shows for company parties, presentations, conferences, trade fairs, and festivals
Show your guests something that no-one else has shown. Our sand performances can be customized, using your elements of your own brand : your photos, excerpts from your videos, or even your company logo, your products, or messages..
We can offer stock shows with musical accompaniment, which are well-established and have proven their worth (you can choose both the script and the music from our repertory); but you can order a fully individual sand art show, such as has never been seen by anyone. Your write or just outline your own script, and we can animate it in a beautiful, eye-catching way.
You would think it is magic; but it is just a few simple techniques used with creativity and precision. A real quality entertainment.
Ordering information
We can present shows anywhere in Hungary, but we have already had captive audiences in several cities all over Europe, as there are no language barriers in our art.
Prices: The prices of the show are given by prior consulation and particular agreement.
Before the show we always specify the technological requirements, have a look at the location, and and agree upon special details. If needed, we can present our own equipment, including the projector..
A show may last from 10 to 35 minutes at length, or two or three installments if you wish.
Offering send animation show to professional organizers
Contact us; we gladly work together with program animators, organizers of events, managers of venues. Rates and conditions are adjustable or even individual as you request.